Zlatan today met the Swedish press in preparation for Sweden's friendly game against Czech Rebublic on Tuesday. Watch the press conference above (if you don't live in Sweden, please use a VPN in order to be able to see it) and/or read the full transcript of it below.
Zlatan, to beginning with.. What happened in Belgium and also in France last year (the terror attacks). How much influence does that have and what's your thoughts about it before the Euros and the everyday life in Paris, which has been attacked?
ZLATAN: "I don't know if it has that much impact once you are playing football but of course you think about what has happened, what can happen but it's like I said last time, the best think we can do is play football and spread joy through football.
What's happened is tragic not only there but around the world. It's something which shouldn't happen and me.. I just try to spread joy and energy. Love through football, everything happening is tragic. It's a shame."
You've been apart of many major championships with Sweden, what would you say are key factors to success?

ZLATAN: "We do things the same way like the other times we've taken part. There are a lot of preparations just before we go to the championship where we have certain activities to get the right chemistry and team spirit going. The staff is good at those things. Then we go there (to France) and focus on the things we are supposed to do.
Once you are there it's one game at a time because if it doesn't go well in the first, you have the second and third to make things right. You also need to enjoy it, I think that's the most important thing.
We have many new players, several of them won with U21 (European Championship 2015) but now it's a higher level and if they make it in the squad for the Euros they should only enjoy it, spread energy around them and try to learn from the championship. It will be exciting and fun."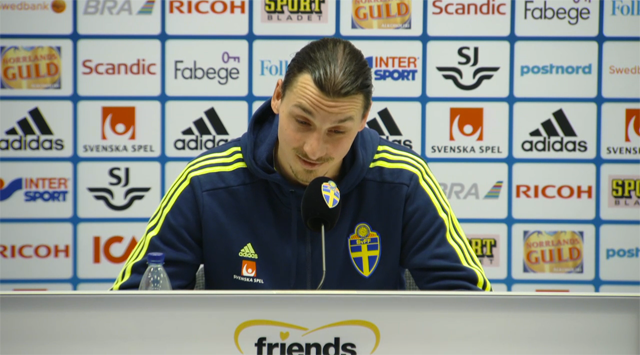 There was a statement where you said that if you were gonna stay in Paris they should replace the Eiffel Tower with a statue of you, what reactions have you gotten from that and what's important once you decide where you will play after the summer?

ZLATAN: "ZLATAN: "They are checking what size they are gonna put there, if it's gonna be higher than Eiffel or the same height.
The reactions? People think it's funny when you are yourself and say something, even though you (the media) say "Zlatan used to be funnier before than he is now" but no, it's the same Zlatan. So it's funny when people talk. What about you? I see that you made your hair today, it looks good."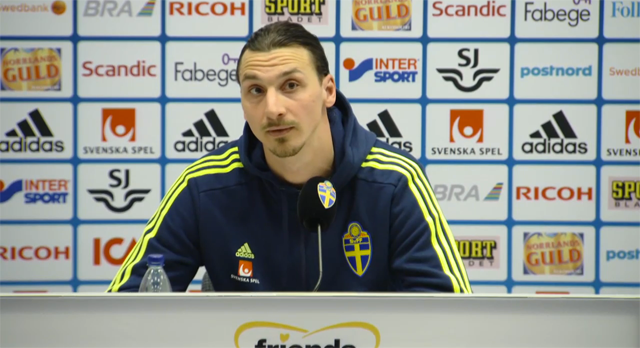 What's important once you pick club?

ZLATAN: "With my club? This is how it is: When we won the league I said: The situation today is that I have a contract to June 30th and judging by now I will not stay at the club (PSG). We are not in discussions. That's the truth, there is nothing else to say. I can't sit here and lie to you, that's the way it is now.
If I've started discussions with anybody, Mino (Raiola, agent) is taking care of it. I play football and focus on football. I know it has started to roll, he feels it's time. Him, not me. I say it's up to him. Then we'll see, we'll put all cards on the table. We'll see what opportunities will come up, I think there will be many.
But with all respect to the club I play for, we have a good relationship, I've had four amazing years. The relationship I have with them is only positive. They've done everything in order for me and my family to be well. And on the pitch it's been fantastic, magical, nothing can take that away from me. So everything they promised they have delivered. There is only respect between me and those behind the club.
So we'll see what happens. I've said it before, many big things will happen this summer. So just have patience and you will have something to write about.... But the future looks very good."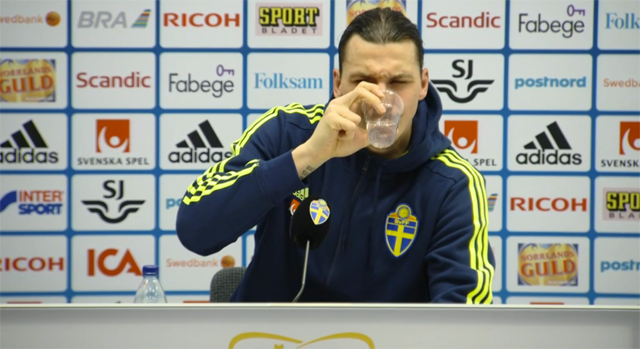 Zlatan, do you feel you're in the form of your life?
ZLATAN: "I feel I've proven a lot this season. People were saying "he's turning 34, he's heading downhill". I've proven that's (the age) just a number. Everything is about how old you are in your mind.
And I've proven I'm still young in my mind so just like the promotional campaign which is coming out now (Vitamin Well) states, I'm just warming up. And that's what I'm doing, so everything is in the mind.
The mental part is 50 % of football and there I've never had a problem. So I still feel very young even if the number is 34 and will turn 35 soon. The season I've accomplished.. I've never had a better one.
I feel amazing physically. Am I better now than before? Yes. For every year that has passed, I've felt better. For every season I've played, I've been better and I still feel I develop as a player. Then I just do my job. And I do it well. Bloody well."
I think about the squad you have now. Looking at what you did in the playoff (against Denmark). When you go into games like these, do you feel that has impact and if yes, in what way?

ZLATAN: "The nine-ten days we had over the playoff was all about pushing away the negative, minimize the mistakes on and off the pitch. When something happened which could.. not shake the team but potentially bring negative thoughts.. all that was pushed away.
Everything that led up the final game, everything was positive even if there were things in the background which perhaps weren't that positive but we transformed it to something positive. Nothing was allowed to disturb the team, we prepared in the best possible way just like we use to.
Did we have pressure on us? Yes, there was a lot of pressure. Everybody talked us down, everybody were against us. But we didn't let it come into the dressing room or on the pitch. Once we were out there we didn't just give 100, we gave 200 %. That was a completely different call-up, it was win or lose.
This one, I think Erik (Hamrén) has selected the team more like a test, he wants to test players and see how comfortable they are in order to set the squad for the Euros but I will never forget those ten days around the playoff.
We came out of those ten days in a fantastic manner, believe me. Exactly like we wanted to so it was awesome. It will stay in history."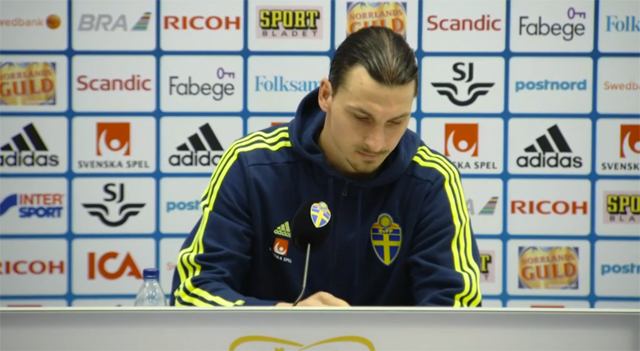 If you compare yourself and your form to the last time it was the Euros (2012), what differs you physically and mentally now from then?

ZLATAN: "Well, I'm 34 this time. How old was I then? 30, right? I feel good, I prepare the same way I always do. I feel strong both physically and mentally like I also did then. But I think I had some problems with my knee back then so I feel better now,. But we are not there yet, there are one-two months to go so let's hope I then feel the way I feel now.
I feel good, it's positive, a lot of things are happening for me, for the team, for the national team. Like I said, I went into this season.. It's like playing poker. I could have done a horrible season and I would have been in a different situation. But it was all-in and it went just like my vision.
It was all down to me and how well I did this season. If I would have had a bad season I wouldn't have had these opportunities. But now it's the other way around, I have a lot of opportunities. Like I said, it looks good, both for the Euros and after. And then we have the Olympic games as well."
Will you play there?

ZLATAN: "Hmm... We'll see. That's up to the club to decide."
(follow-up): The new club.. Is that a good negotiation-tool to have?

ZLATAN: "For them or for me? I'm in a good position. Them? Well..."
Next question, when you are changing jobs, it's the same way for everybody, you reason with your wife and kids, how much influence does Helena (Zlatan's wife) and your sons have over the decision?

ZLATAN: "Nothing, they just follow. Every choice I've made it needs to feel right for me. I'm the one who's going into it and I need to feel I can give 200 %. They are happy wherever they go, so that doesn't change the situation within the family. We do it the same way we've done it before. If anything happens that is."
You balance a lot of things. Soon Manchester City awaits in the Champions League, final in the League Cup, semi in the French Cup and then the Euros and Olympic Games, how do you handle so many different objects?

ZLATAN: "I try to focus on one thing at a time. Now there's a game with Sweden on Tuesday, I do that. When the next game comes, I do that. Because what's most important are the games. When I deliver on the pitch it feels easier off the pitch.
There are a lot of things happening, I agree with you. When we come home after this national game there's a hectic schedule waiting. It's not only the football, also the other projects I have lined up and the things that will happen during the summer. And then the future as well, that's also important. So yes, a lot of things are happening. I try to focus on what's most important and that's football."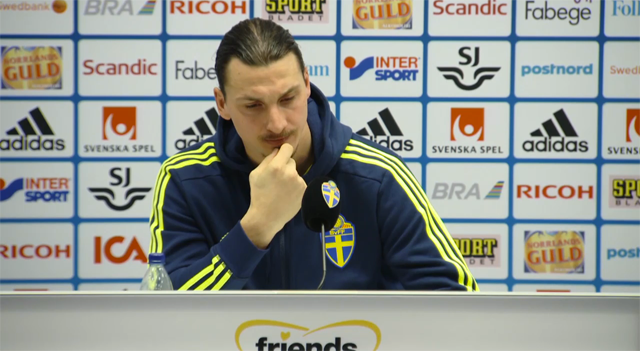 I'm not gonna ask about your projects but I am gonna ask you about the documentary which came out, "Becoming Zlatan". I thought it was a fantastic film. Have you seen it and what did you think of it?

ZLATAN: "I haven't seen it. The reason you think it's fantastic is because I haven't been involved. But that's ok. There are a lot of seagulls out there. You say I do things to make money. There's an example of somebody doing something to make money. When I do my things I make sure the correct information comes out and that's the truth. I'm not involved in that. How good it is? I don't know. But there are many seagulls out there ."
What did you do when you had your day off? There was a weird rumour that you were bear hunting.

ZLATAN: "I enjoyed the two-three days off I got and visited an old friend. The rest is not interesting. Nothing important, I enjoyed myself."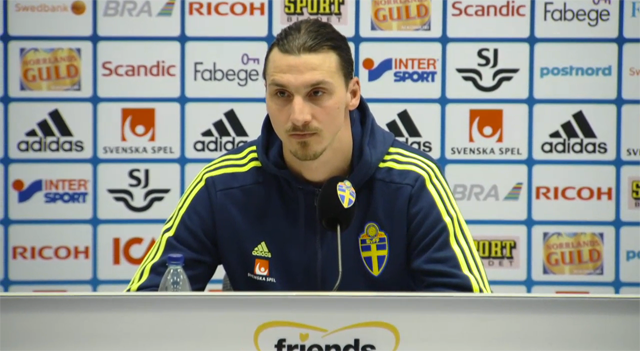 There's almost a campaign in England to get you to play there. They write a lot about you. What's your view on playing in the Premier League and what's your view on the league?

ZLATAN: "I think it's the most attended league in the world. The league that people are talking about the most is Premier League, no comparison.
I've played in amazing countries. Every league has it's pros and cons. It's the same with Premier League. There is an interest, yes. That I can confirm. The we'll see where it leads. Like I said, when the moments come, when all the cards are on the table, that's when I will go through the process of deciding what I want.
And then we'll see who wants it the most? The other side of the table.. It's like marriage. There are two parts who should want it, not just one of them and not the other. Both are supposed to want it just as much."
Source: Fotbollskanalen.