Due to the tough schedule Laurent Blanc rested several players in tonight's cup-game against Nantes. Thiago Silva was not even in the squad and Zlatan, Verratti, Matuidi, Lucas and Maxwell started on the bench. Cavani played up front and like a few times before, that's when he scores. Him and Cabaye made it 2-0 at half time and then PSG controlled the rest of the game with no more goals.
Zlatan didn't have to play and stayed the full 90 minutes in the bench.
CAVANI OPENED UP THE SCORING
Edinson Cavani has had some trouble scoring lately and in the last game against Lyon he missed a couple of clear chances. Journalists have bothered Zlatan with questions about the Uruguayan but they have stuck up for each other. Tonight Cavani played up front in the middle and in the 19th minute he scored. David Luiz hit a nice cross perfectly for Cavani who headed in 1-0.
GIFT FROM NANTES GOALKEEPER
15 minutes later Nantes goalkeeper Dupe gave PSG a gift by unnecessarily boxing the ball out to Cabaye who could put the ball in an empty net after a cross. 2-0 and PSG seemed to get a very comfortable evening at Parc des Princes.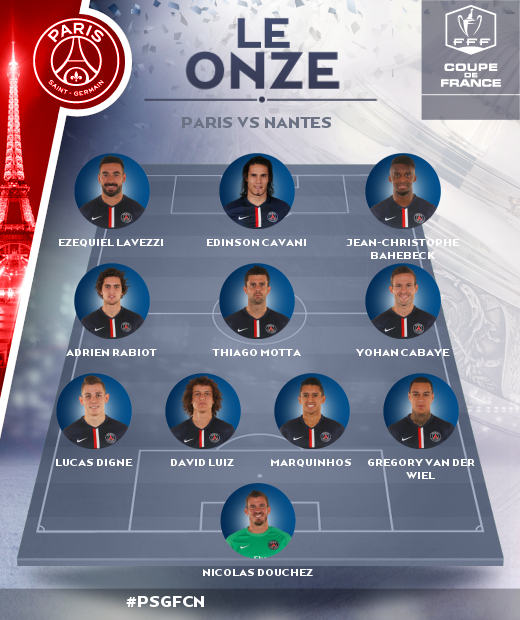 PSG are now through to the Quarterfinal in the French Cup.
Source: psg.fr.