Zlatan today met the press before Sweden's first important EURO-playoff game against Denmark on Saturday. He talked about his thoughts before the game, his current season in PSG, his role as a role model for kids and the rivalry between Denmark and Sweden. Some of Zlatan's replies:
ABOUT HIS ROLE AS TEAM CAPTAIN IN THESE IMPORTANT GAMES.
ZLATAN: "I try to be myself and push my teammates before the games. In the week before and on gameday. I take big responsibility so most focus is on me instead of my teammates. This is a special game, it's win or lose. It's not enough with one good game. We have to perform in both games and be alert."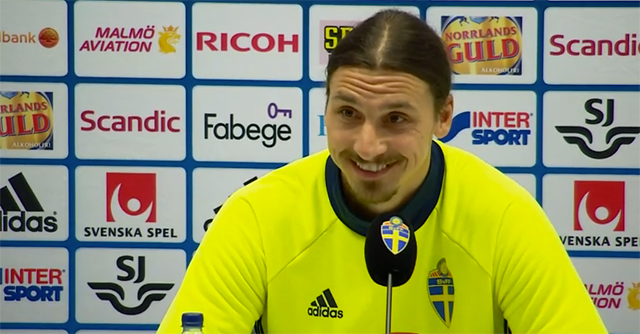 ABOUT THE INTEREST AROUND THE GAME.
ZLATAN: "It's gonna be a full stadium so there's a big interest. It will be exciting, I think the people will enjoy the game. These are the games you wanna see and we'll do our best."
ABOUT HIS OWN START OF THE SEASON.
ZLATAN: "Amazing. I've scored 9 goals and 5 assists in 13 games, which is better than last season and I haven't even played all games 90 minutes, so I feel good, more than good."
ABOUT HIS FUTURE IN THE SWEDISH NATIONAL TEAM
ZLATAN: "We'll see, it's nothing I think about. We have two important games, that's most important now. If you ask me now whether these are my two last games for Sweden, no. But I don't know what I'll answer after the two playoff-games.
It's nothing I think about. I feel good now and as long as I feel good, I will continue."
ABOUT IF HE HAS BECOME A WORSE FOOTBALL PLAYER AS HE HAS GOTTEN OLDER.
ZLATAN: "I've scored 9 goals and 5 assists so I don't think so, you can look at the statistics. I feel pumped, I feel really strong."
Source: Press conference, Friends Arena.